After event

Today's Chambers Online Networking for the first time on Hopin platform was a great occasion for virtual meetings and exchange of positive vibes from more than 100 various companies.

#BBCMembers were also proudly represented in this event.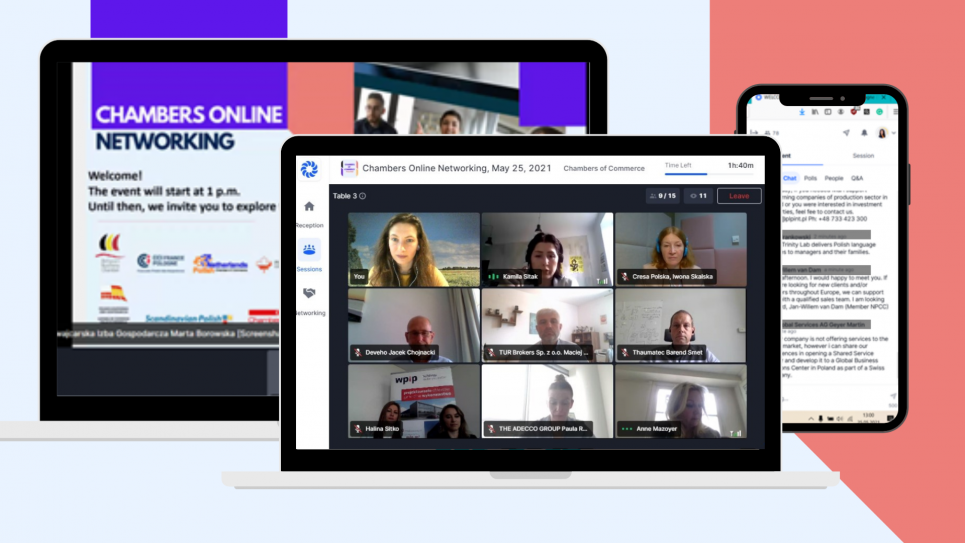 Thank you for your time and presence - we hope you had a good time and efficient networking ! 
---
Chambers Online Networking is a new formula of the well-known Business Mixer, but this time in a refreshed version. During the 2-hour meeting, you will be able to meet representatives from various sectors and companies associated in:
 Belgian Business Chamber
 French - Polish Chamber of Commerce
 Polish-Swiss Chamber of Commerce
 Scandinavian - Polish Chamber of Commerce
 Netherlands - Polish Chamber of Commerce
 Polish - Spanish Chamber of Commerce
 Polish-Canadian Chamber of Commerce
We hope that this event will allow you to establish valuable business contacts.
Technical information:
The round tables will be with a maximum of 10 people. 
Each of you will be assigned to a specific table just before the event. We will make sure that representatives of various industries are at each table. There will be 2 minutes to introduce yourself. 
2 rounds at the round tables.
In the second part of the event, we invite you to network 1:1. The system will randomly select a conversation partner for you. The duration of the 1:1 discussion is 3 minutes.
At the end, you will be able to propose a meeting to selected companies/people and freely use the platform.
The list of available companies and link to the event you will receive just before the event.
Please register here: https://forms.gle/TMt3FTNZCQtKuxsb8
AGENDA OF THE MEETING:
12:30 - 13:00 - Registration, becoming familiar with the platform
13:00 - 13:10 - Welcome. Explaining the rules of the event
13:10 - 13:30 - 1st round by the tables (each company has 2 minutes to present themselves, 10 people at one table)
13:31 - 13:50 - 2nd round by the tables (each company has 2 minutes to introduce themselves, 10 people by the table)
13:50 - 14:05 - Random networking 1:1 (3 matches of 3 minutes each) - the system will contect you with randomly selected people present at the event.
14:05 - 15:00 - Free use of networking options, including: 1:1 networking, group meetings in rooms, meetings with selected representatives of companies.
ORGANIZERS: