We invite you to join the Belgian Business Chamber and 10 other international chambers of commerce in an International Speed Business Mixer on 9th of November 2021 in InterContinental Hotel.
International Speed Business Mixer is a great opportunity for businesses to present themselves and network with the members of eleven bilateral chambers in a series of direct meetings. Each participant will be assigned to several groups with 9 members and will take part in several sessions for 20min each. During one round, the participants will have 2 minutes to present their company, product and establish relations with other group members. After finishing a session, participants change their groups and the process begins all over again. It is a one and only opportunity to meet such a large number of contacts in short time and in a structured formula.
After the Speed Business Networking part, the participants will have the opportunity to network even more over drinks and finger food during a Business Mixer.
AGENDA
18:00 – 18:15 – Welcoming the attendees and Sponsor debate
18:15 – 19:15 - Speed Business Networking
19:15 – 20:30 Business Mixer
Register HERE 
There is also a possibility to become an International Business Speed Mixer Sponsor!
There are two Sponsorship packages: Gold and Silver.
Gold Sponsors will have the opportunity to take part in a discussion 'Business relations in new reality: good practices' at the beginning of the event or have a dedicated stand in the Foyer.
More information HERE (PL) and HERE (EN)
If you wish to know more, do not hesitate to contact the BBC Team.
The terms and conditions of the event are available here (PL).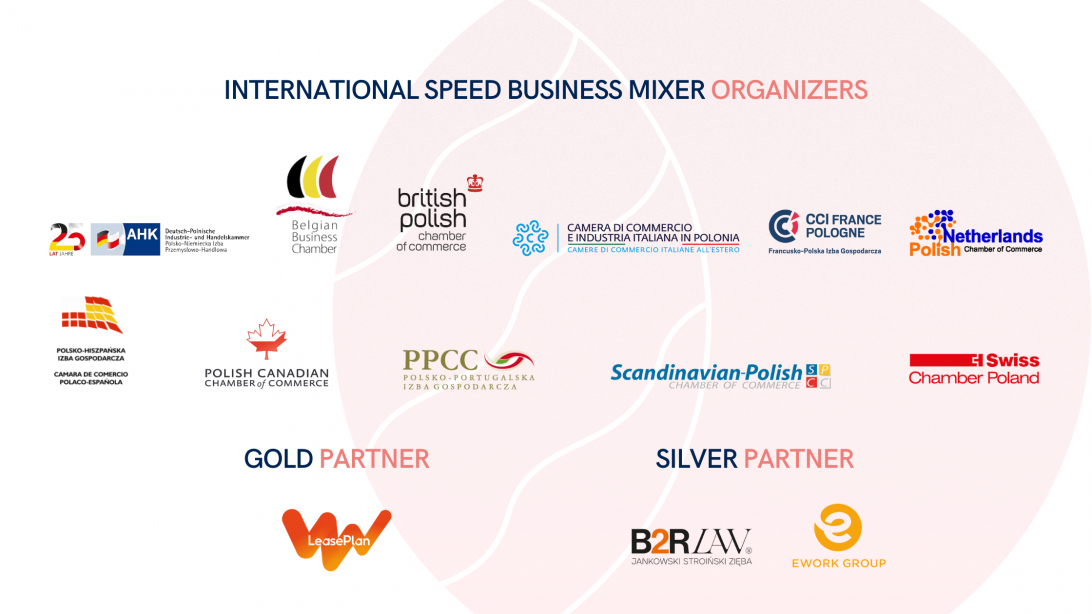 Do udziału w spotkaniu zapraszamy osoby, które posiadają zaświadczenie o zaszczepieniu przeciwko COVID19 pełną dawką lub mogące okazać negatywny wynik testu na COVID19, który był wykonany nie później niż 48 godzin przed spotkaniem. Na miejscu wydarzenia będziemy prosić Państwa o okazanie certyfikatu lub negatywnego wyniku testu. Ze względu na obecną sytuację i w trosce o Państwa zdrowie na wydarzeniu,  obowiązuje limit miejsc dla osób niespełniających powyższych warunków. Prosimy o uwzględnienie, że przy przekroczeniu wspomnianego limitu,  organizatorzy nie gwarantują miejsca dla uczestników, których on dotyczy.





You are invited to attend the event with a certificate of full-dose COVID19 vaccination or with a negative COVID19 test result that was taken no later than 48 hours prior to the event. We will ask you to show your certificate or negative test result at the event venue. Due to the current situation and out of concern for your health at the event, there is a seating limit for those who do not meet these conditions. Please note that if the limit is exceeded, the organizers do not guarantee a place for the participants concerned.