After the meeting
During our yesterday meeting with the representatives of the Ministry of Finance, we had more than 130 participants from companies associated with the International Cambers who are a part of the IGCC (International Group of Chambers of Commerce).

As we are the President of the IGGC, we had a possibility to take part in the organizational part of this meeting.

Representatives from different sectors and companies have raised more than 10 questions which were related to withholding taxes, transfer prices, employee stock ownership plan, the excise tax on alcoholic products, teleworking regulations, Real Estate investment trusts, and many more!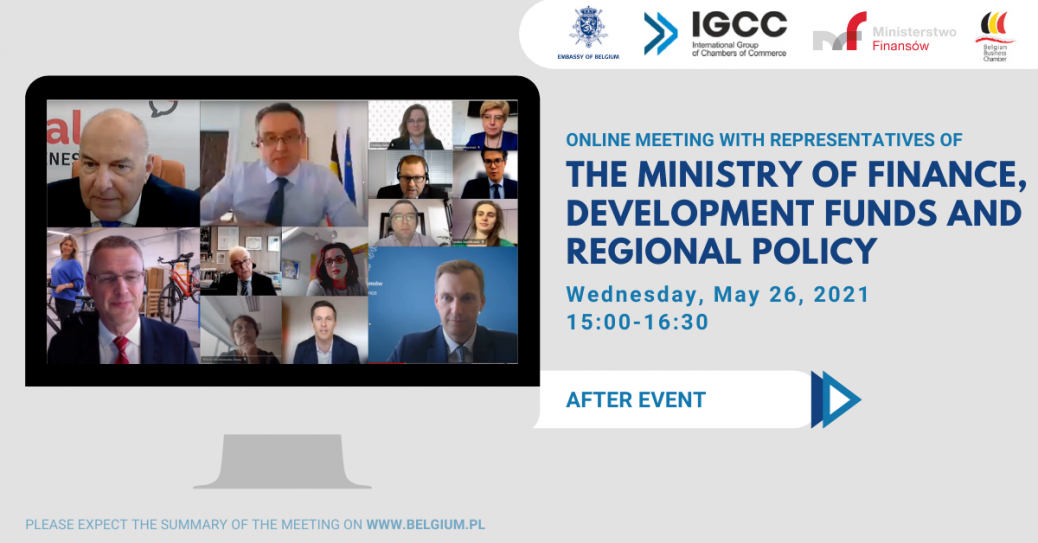 It was a very substantive meeting, and we are grateful for the Ministry's openness to talk.

Please expect the summary of the meeting on the BBC website.
---
According to World Bank, the well-diversified Polish economy is among Europe's least affected by the COVID-19 pandemic.
Nevertheless, GDP declined by 2.7 percent in 2020, the first output contraction in over 20 years.
By this meeting we would like to discuss with the Minister of Finance, Funds and Regional Policy about the challenges facing a global and Polish economy, in the context of the reconstruction of the region's economies after the Covid-19 crisis, ratification of the EU Reconstruction Fund, the importance of green investments and digitization, as well as the need to strengthen the efficiency of public investment management and many more.
The online meeting will be an opportunity for foreign investors to raise the important and bothering topics with Mr Kościński and othe representatives of the Ministry of Finance. The meeting is organized under the umbrella of the IGGC.
By this survey, we would like to give you a chance to ask a question to Tadeusz Kościński, Minister of Finance, Funds and Regional Policy
ASK your question here before 5th of May 2021: https://forms.gle/FFVgYFgbYoiPKTCX9