PETERKA & PARTNERS oraz ALTIOS zapraszają na webinarium pt.: "Nowy Polski Ład. Zmiany podatkowe i prawne w 2022. Możliwości biznesowe w Republice Czeskiej, Rumunii i Bułgarii."
Podczas webinarium omówimy zmiany podatkowe, prawne oraz kwestie rekrutacji i zatrudniania pracowników pod kątem wprowadzanego w Polsce od stycznia 2022 roku Nowego Ładu. Opowiemy także jak względem zmian w prowadzeniu działalności biznesowej w Polsce wygląda prowadzenie firmy i zatrudnianie pracowników w Republice Czeskiej, Rumunii I Bułgarii.

Udział w webinarium jest bezpłatny i prowadzony będzie w językach polskim oraz angielskim.
Rejestracja do 30.11: https://attendee.gotowebinar.com/register/2898611037293766670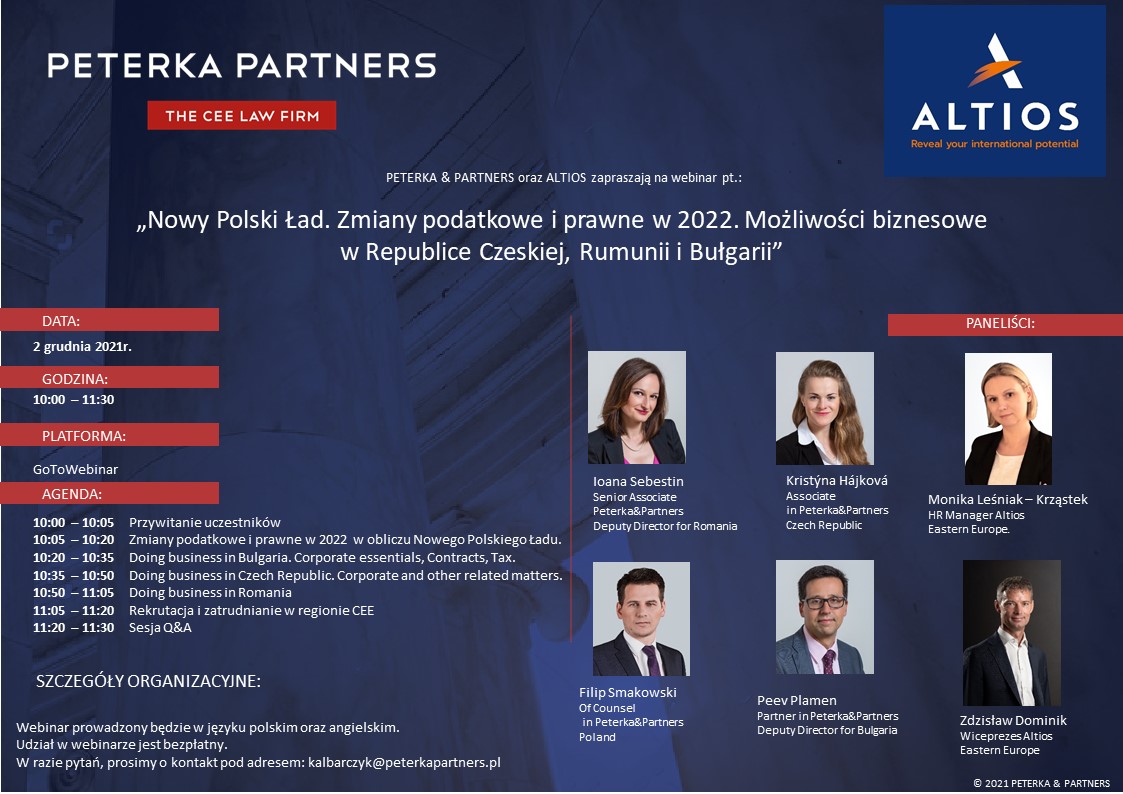 ---
PETERKA & PARTNERS and ALTIOS would like to invite you to a webinar "New Polish Deal. Tax and legal changes in 2022. Business opportunities in the Czech Republic, Romania and Bulgaria."
During the webinar we will discuss tax and legal changes, recruitment issues and employment of workers in the context of the New Deal which will be implemented in Poland from January 2022. We will also discuss the influence of changes in running a business activity in Poland in the context of running a business and employment of workers in Czech Republic, Romania and Bulgaria.
Participation in the webinar is free of charge. The webinar will be conducted in Polish and English.
Registration until 30.11: https://attendee.gotowebinar.com/register/2898611037293766670