After event
We know how important is to provide a comprehensive assistance while entering into the Polish  market. This is why yesterday's "Why invest in Poland?" was a great encouragement, but also a knowledge pill for the potential Belgian investors interested in doing business in Poland.

Yesterday, Cynthia De Pauw, Treasurer of the BBC presented our complex services and membership benefits to the future #BBCMembers.

There was no shortage of expert knowledge about the condition of Polish economy and Real Estate market from Anna Baran and Malgorzata Fibakiewicz (BNP Paribas Real Estate).

Frank Claeys and Beata Jóźwik introduced the BNP Paribas Fortis and the BNP Paribas Bank Polska support to invest in Poland in the best way.

And last but not least we had a pleasure to listen to success story of Ghelamco Poland from Jeroen van der Toolen.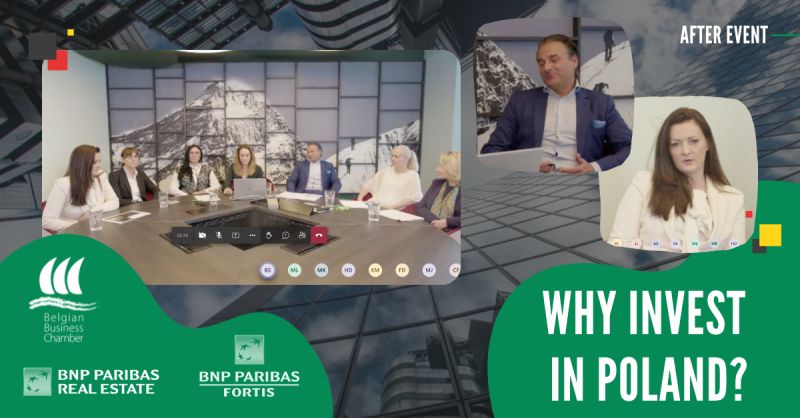 ---
If you are a small, medium or large company or entrepreneur from the BENELUX region and you want to develop your business in Poland or simply want to invest, join us during "Why invest in Poland" webinar on May 25th  at 13:00.  
Poland, thanks to its centralized location in Europe, is a great place to do business and to invest capital. Moreover, Poland is considered to be one of the most economically stable and fastest developing countries in the world. It is a good place to invest!.
During our meeting you will find out what are the investment possibilities and opportunities in Poland and what is the economic situation on the market.  
We will talk about the potential return on investment and what the real estate market has to offer.
Moreover we will show you:
How Belgian Business Chamber (BBC) can help newcomers enter the Polish market,
What is the condition of Polish economy,
What is Real Estate market condition in Poland,
Why it is good to invest in Poland,
How to be successful in Poland – story of Ghelamco
The webinar will be hosted by:
BBC represented by Cynthia de Pauw (Democo),
Anna Baran and Małgorzata Fibakiewicz (BNP Paribas Real Estate)
Frank Claeys (BNP Paribas Fortis Bank) and Beata Jóźwik (BNP Paribas Bank Polska)
Jeroen van der Toolen (Managing Director CEE Ghelamco),
The webinar will be conducted in English.