During this year's Belgian Concert, guests will be treated to a real jazz feast performed by the Łęczycki Jazz Trio. 
The group's founder, Bartek Łęczycki, is one of the most versatile and award-winning harmonica players in Europe. He is a two-time platinum record winner for the Maleńczuk & Waglewski album "Koledzy" (2007) and Waglewski Fisz Emade album "Męska Muzyka" (2008). 
The band, comprising Bartek Łęczycki (harmonica), Jacek Prokopowicz (Hammond organ) and Adam Lewandowski (drums), will present a repertoire combining dynamic songs with lyrical ballads and a modern, funky sound. The concert is dedicated to the eminent Belgian jazz legend Toots Thielemans (1922-2016). 
The musicians are renowned for their love of improvisation, so guests are in for a real musical adventure over a glass of wine. 
Agenda
---
From 18:30 Open doors 
19:00 Opening Speech by Joanna Kolber, Treasurer of the BBC Board 
19:05 – 20:05 Concert Łęczycki Jazz Trio 
From 20:05 Networking 

About the Łęczycki Jazz Trio
---
Minimalistyczny skład wyśmienitych muzyków: Jacek Prokopowicz (organy Hammonda), Adam Lewandowski (perkusja). Repertuar stanowią zarówno dynamiczne be-bopowe utwory, liryczne ballady i nowoczesne funkowe kompozycje.     
Listen to their music 
https://www.youtube.com/watch?v=oYyGL5JIKBA
https://www.youtube.com/watch?v=0FPAFeA6kQE
About the artists
---
Bartosz Łęczycki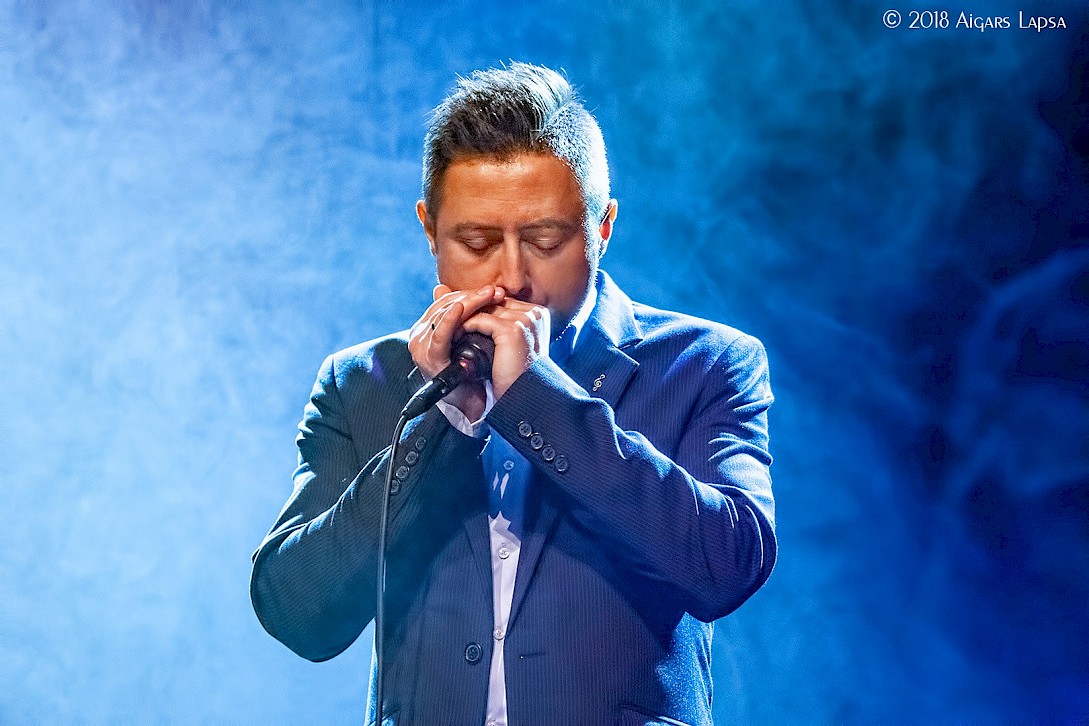 One of the best and most versatile harmonica players in Europe.
Bartek has been voted Best Harmonica Player in Poland several times, most recently in 2017.
He is featured on two platinum-selling albums, Koledzy (2007) and Meska Muzyka (2008). A highly-regarded teacher and promoter of the harmonica in Poland. Every Monday he teaches about 30 students from Warsaw at the biggest harmonica school in Poland. Since 2008, Bartek has been the host of jam sessions for professional musicians held every Tuesday at the famous music club Harenda in Warsaw's city centre.
In 2010, Bartek was a headliner of the SPAH Convention held in Minneapolis where he played a solo concert and gave a lecture for the most advanced participants from all over the world. He was the first Polish musician to be invited to this prestigious festival.
In 2014, Leczycki was a headliner of the NHL International Harmonica Festival in Bristol. He gave a solo performance and conducted two workshops about using a loop station and special tunings for diatonic harmonicas.
Bartek feels at home in any kind of music, and fluently uses the overbending technique which enables playing any scale in any key on an ordinary 10-hole diatonic harmonica. He has conducted master classes in France, Germany, USA, Croatia and Ukraine. He has also performed live in the UK, Belgium, Czech Republic and Morocco.
He records music for movies, cartoons, PC games and TV commercials.
His extraordinary musicality and virtuosity have been appreciated by outstanding polish artists such as Wojciech Waglewski, Jarek Śmietana, Alicja Majewska, Marek Raduli, Andrzej Nowak, Piotr Banach, Alicja Janosz, Maciej Maleńczuk and guitar virtuoso Tommy Emmanuel. Bart performs in a number of music projects, also as a session musician, and plays solo gigs using a loop station.
Adam Lewandowski 
Gra na perkusji i instrumentach perkusyjnych. W latach 1981-1984 grał w zespole Zbigniewa Namysłowskiego "Air Condition", z którym wystąpił na największych światowych festiwalach jazzowych. Współpracował m.in. z Krzysztofem Ścierańskim, Januszem Skowronem, Januszem Stroblem, Trio Włodka Pawlika, Trio Marka Blizińskiego, Hanną Banaszak, Wojciechem Karolakiem, Andrzejem Dąbrowskim. Współtworzył pierwszą polską stację radiową grającą muzykę jazzową-"Radio Jazz".  Nagrywał muzykę do filmów, m. in  "Wrony" z muzyką Włodka Pawlika i muzykę filmową Krzesimira Dębskiego. Nagrywał podkłady muzyczne do programów TV " Szansa na sukces" oraz "Idol".  Epizody aktorskie w filmach  m. in. "To tylko Rock" Pawła Karpińskiego,  serial "Dom", "Czterdziestolatek", "Poranek kojota", "Ubu Król", serial "Sukces", serial "Bóg w Dom". Programy telewizyjne, m. in. "Gra w Przeboje", "Jak Pan To Robi", "Od przedszkola do Opola", "Taniec z Gwiazdami", "Joker", "MdM" jak również trzykrotnie w orkiestrze podczas Krajowego Festiwalu Piosenki Polskiej w Opolu. Odznaczony brązowym medalem "Gloria Artis".
Jacek Prokopowicz
Przygodę z muzyką rozpoczął w wieku 6 lat od nauki gry na fortepianie w szkole muzycznej im Oskara Kolberga w Warszawie. W wieku 15 lat założył swój pierwszy zespół, z którym grał pierwsze koncerty rozpoczynając tym samym zawodowe życie artystyczne oparte na tworzeniu i graniu muzyki. Potem były kolejne zespoły, coraz lepsi muzycy, z którymi współpracował i coraz wyższy poziom wykonań. W wieku 18 lat "odkrył" i zafascynował się organami Hammonda. Niedługo później instrument pojawił się w domu i życiu zawodowym. Wraz z rozpoczęciem gry na Hammondzie zrodziła się koncepcja założenia trio jazzowego opartego na gitarze, perkusji i organach Hammonda właśnie. Powstał zespół Colors Of Trio, w którym miał przyjemność grać z jednym z najlepszych polskich gitarzystów jazzowych-Jarosławem Śmietaną. Fascynacja jazzem i bluesem zaowocowała współpracą z wieloma artystami tych gatunków. Oprócz koncertowej współpracy z Jarosławem Śmietaną nawiązał współpracę z kontrabasistą jazzowym Piotrem Rodowiczem, perkusistą Adamem Lewandowskim, Wojciechem Waglewskim (na płycie Hey Jimi, oraz we wspólnym koncercie w programie 3 Polskiego Radia emitowanym na żywo), z zespołem Indios Bravos (płyta Peace), oraz zagrał trasy koncertowe z amerykańskimi bluesmanami: Kalif Wailin' Walter, GG Amos, Alvon Johnson, Krissy Matthews, Noel Coutts, Chaz de Paolo. Współpracuje z zespołami: Kochankowie Gwiezdnych Przestrzeni (Top Trendy 2007r., Przystanek Woodstock 2009r., 2010r.), Back To The Ocean, JJL Trio (blues, rock). Pracuję też z własnym kwartetem-Jacek Prokopowicz Quartet.
Wato dodać, że w ankiecie forum Okolice Bluesa zdobył tytuł najlepszego klawiszowca 2011r. oraz drugie miejsca na klawiszowca roku 2012.

 
---

The BBC is currently working on the detailed programme of the Belgian Days 2022.
Follow us for more news and stay tuned!