The Belgian Business Mixer is a prestigious event where, in an informal atmosphere, business intertwines with fun, creating the perfect backdrop for making new contacts. 
This year, the traditional mixer will take place on the 46th floor of the Ghelamco Warsaw Unit office building, in Skyfall Warsaw with a beautiful view of the city's night skyline.  
The event will include a panel discussion focusing on Belgian investment success stories in light of the changes brought about by 2022.
Agenda
---
From 18:30    – Open door and registration  
19:00 – 19:15 – Welcome Speech – Member of the Board Krzysztof Kalata  
19:15 – 19:45 – Panel discussion  "What will make a successful Belgian investment in Poland in light of changed circumstances anno 2022" moderated by Marc Peirs.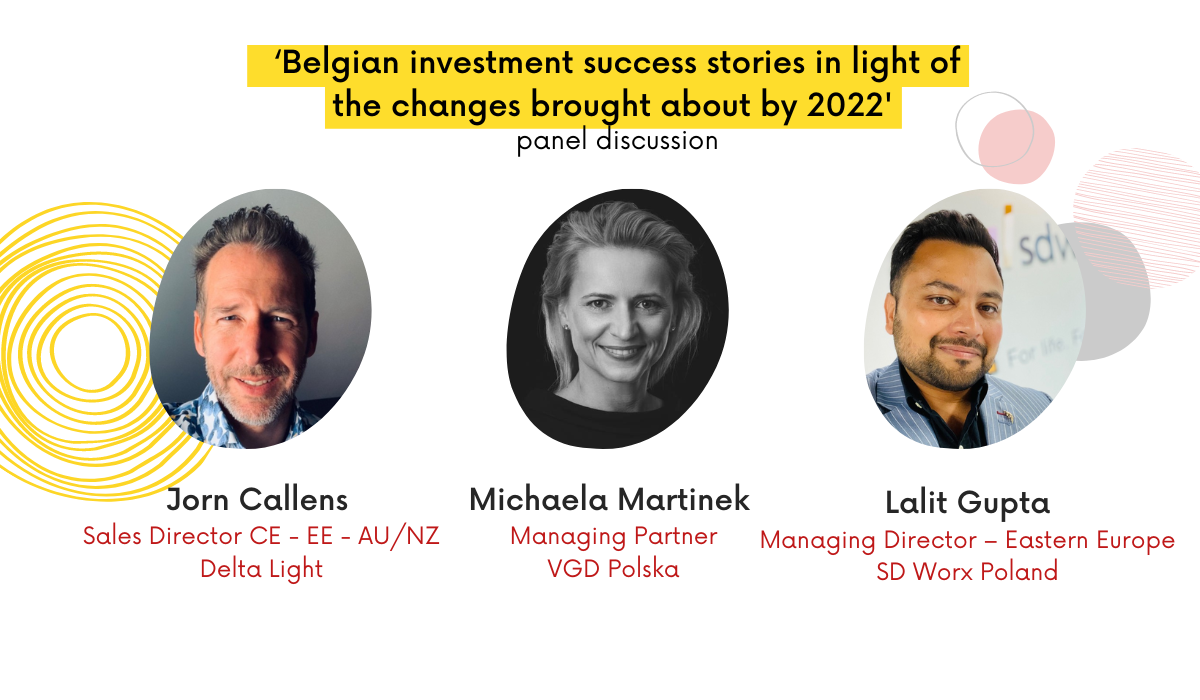 Panelists:  
Lalit Gupta, Managing Director – Eastern Europe SD Worx Poland  

Michaela Martinek, Managing Partner, VGD Polska 

Jorn Callens, Sales Director CE/EE/AU&NZ at Delta Light   
19:45 – 23:00  Networking  
 
About the panelists
---
Michaela Martinek is the Managing Partner of the VGD Sp. z o.o., providing services in tax, accounting, payroll and business consulting. Born in Czech republic, she connected her professional and private life with Poland when she moved here in 2013. She is managing the local team successfully for almost 10 years. Michaela has always been tempted by new challenges connecting with new market. She and her VGD team prepares tax and HR seminars and blog for Belgian and Polish clients.
Lalit Gupta is a Senior Leader with comprehensive business skill set and expertise in IT Service Management (ITSM) and Human Resources. He has been associated with SD Worx Poland for almost 2 years, where he is responsible for the development of and go to market in the Emerging Markets in the Central and Eastern European region, and for mergers and acquisitions in the HR & Payroll business area. Previously, he held several Senior positions in operations, delivery, and Business Management. Lalit is a proficient problem-solver who envisions business and technical perspectives to develop workable solutions. During varied responsibilities, he has demonstrated good understanding of customers and the outsourcing industry worldwide.
Jorn Callens is Sales Director CE/EE/AU&NZ at Delta Light. His professional career has been driven by his passion for architectural design. He has been active in international sales for more than 20 years.
---

Moderator - Marc Peirs
---
Marc Peirs (°1966, Gent, Belgium) is a journalist, writer and professional Poland-watcher.
Since 2000 he reports on all things Polish. So he covers Polish politics, economics, culture.
First he worked 25 years as a journalist for the national Belgian- Flemish broadcasting company VRT. In 2018 he decided to move to Poland. He currently works as correspondent for VRT, for the magazine 'Knack' and every now and then for the businesspaper 'De Tijd'.
He works, writes and lives in the eastern well-known little town Kazimierz Dolny.  He is married to the Polish-Belgian writer Maja Wolny. Together they have two children.  
---
Follow us for more news and stay tuned!