A flagship event CEO Forum took place this Thursday at the Embassy of Kingdom of Belgium.
 In the presence of the elite of Polish - Belgian CEO's the Belgian Business Chamber Award 2019  was granted for the winners. That was a splendid evening!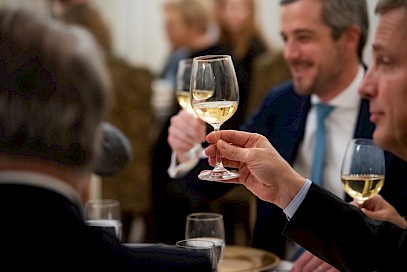 ---
We are honoured that this year again the CEO Forum takes place at the Embassy of the Kingdom of Belgium, in a beautiful, late baroque residence.
CEO Forum is a meeting of high-ranking representatives of Belgian and Polish companies interested in investing in both countries. The purpose of the event is to exchange and discuss knowledge, experience and good practices between entrepreneurs active both on the Belgian and Polish market. During this sublime event, three of the BBC's Member companies will be presented with the prestigious Belgian Business Chamber Award 2019 to acknowledge and distinguish their efforts in promoting Polish – Belgian business relations.
CEO Forum will be also attended by a unique Guest of Honour – Mr. Paweł Borys the President of the Polish Development Fund. Paweł Borys is a leading Polish manager with significant experience in the capital market, banking and economic policy. He is the President of the Management Board of the Polish Development Fund, whose assets have a value of over EUR 17 billion, and capital allocated to new investments is almost EUR 4 billion. He has extensive and successful experience in the financial market that he gained at PKO BP responsible for the area of ​​strategy, investments and macroeconomic analyzes; in AKJ Capital, responsible for private equity and venture capital investments; and also at Deutsche Bank as Director of the Investment Department as part of investment funds and as the chief economist at Erste Bank. During his career, he supervised the largest transactions in the Polish banking sector, such as a joint investment in Pekao SA in 2017 (EUR 2.5 billion) and the takeover of Nordea by PKO BP in 2013 (EUR 0.7 billion). He coordinated the process of restructuring and financing the largest Polish energy investments in Opole, Jaworzno and Kozienice. A graduate of economics at the Warsaw School of Economics. Author of a number of publications on financial markets and issues in the field of economic policy.
The moderator will be Peter Musschoot, who is working internationally as a trainer, team & personal coach and as a large group facilitator and speaker. Moreover, he helps organizations and teams with practical progress in many different changes: mission, strategy, roles, processes, interaction and leadership. His positive and pragmatic approach is characterized by a high degree of action-in-the-interaction and goal orientedness. Peter works together with clients in English, Dutch, Spanish and French. He speaks basic Polish.
A personal invitation is required to attend this meeting.